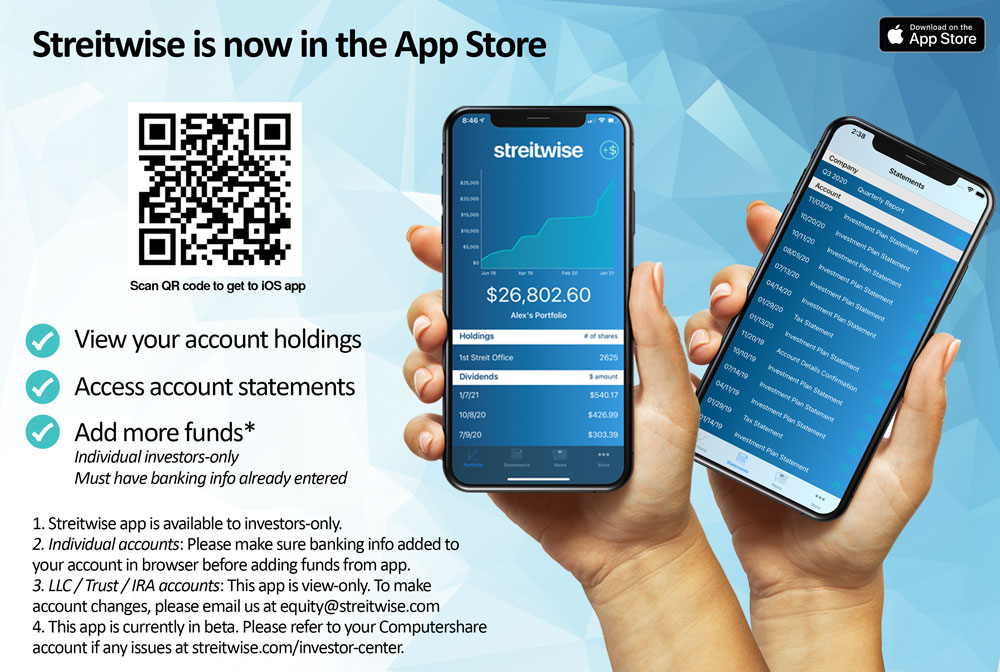 As an investor in Streitwise, you now have the ability to monitor your investments and add more funds from your iOS device through the Streitwise App from the Apple App Store. This will allow you to view your holdings, view your returns, graph your total returns over time, monitor our quarterly reports, and add funds*.
Individual investors:
Please make sure banking info is already added to your account from your Investor Center account on a browser. You can not add funds without banking info already entered.
LLC / Trust / IRA accounts:
Non-individual account holders can not add funds from this app. This app is view-only. To add funds as non-individual holder, please follow steps here.
Streitwise app is available to investors-only. To create an account, get started here. Once account funded (about 3-4 week total timeline), you will receive login instructions at your Investor Center, where you can then use this app.
This app is currently in beta. Please refer to your Computershare account if you encounter any issues.
This app is read-only with the exception of adding funds for individual investors. You will still need to login to your Investor Center accounts to manage changes to your account such as dividend reinvestment enrollment, certifying your taxes. IRA / LLC / Trust accounts will only have view-only access and will need to make all account changes via email at

[email protected]

.