Streitwise just completed another 10% annualized quarterly dividend distribution for all eligible investors, net of fees*. Our quarterly NAV has also increased from $10/share to $10.11/share.
The NAV adjustment reflects appreciation in the total value of the REIT. Of course, valuations may fluctuate pursuant to changes in the portfolio, especially as we approach the expiration dates of large leases, but we're happy with the performance to-date.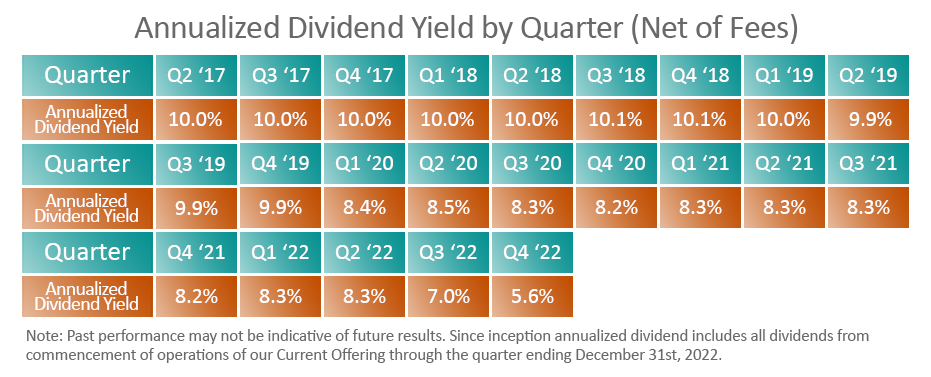 Note: While this is the 9th straight distribution at 10% annualized, this is not a guarantee of future returns. Both the shareholder NAV and the dividend distribution are subject to change quarterly. An investor two years ago that invested $10,000 with Streitwise would have a total return of over $2,000 assuming current NAV.
Historical NAV Information
Below is the NAV per share of Common Stock, as determined in accordance with the Company's valuation policies, for the fiscal quarter ended December 31, 2018. For the prior periods, the Company was not required to calculate NAV.
June 30, 2018 – $9.95
September 30, 2018 – $9.95
December 31, 2018 – $10
March 31, 2019 – $10.11
To add funds of your own and get started today just follow go to Start Investing page. The process only takes 5 minutes. IRA investors please see here.
Eliot Bencuya is the co-founder and CEO of Streitwise. Eliot has extensive experience identifying, underwriting, and executing value-add real estate investments.
Prior to forming Streitwise, he was a Vice President of Acquisitions for Canyon Capital Realty Advisors and the Canyon-Johnson Urban Funds, where he was responsible for originating, underwriting, structuring and executing transactions in the Pacific Northwest, Northern California and Midwest regions. Mr. Bencuya also held positions at Sovereign Investment Company (a subsidiary of the Marcus and Millichap Company) and the investment banking division of Merrill Lynch & Co. He holds a Bachelor of Arts degree in Economics and International Studies from Yale University, and a Masters of Business Administration degree from the Haas School of Business at the University of California, Berkeley. Mr. Bencuya is a member of ULI.