To view the Annual Shareholder's Meeting, click here.
While 2020 was a year of triage and operating in a dense fog, 2021 was a year of stabilization with greater visibility into what a post-covid world might look like. We all hoped that by now we'd be fully on the other side with no restrictions, but clearly it is taking longer than hoped. It is specifically for these times of uncertainty that we have constructed, and continue to construct, a portfolio of high quality properties that performs in good times and bad. 
We are happy to report that in 2021, our tenant rent collection was 100%, and we hit 100% occupancy at our Allied Solutions building.  We also achieved our 2021 dividend target, and while nothing materialized from an acquisitions standpoint, we continue to pursue interesting new opportunities and believe our patience and selectiveness will ultimately be rewarded.
As our properties generated significant cash flow, we were able not only to maintain dividends, but to continue paying down our property-level debt such that our balance sheet becomes even stronger. Our long weighted average lease term at the Allied Solutions building provides a solid base of cash flow with which to get through the more near-term lease expirations at Streitwise Plaza, where we continue to have robust activity, both new and renewal, given the property's top tier standing in the submarket.
Market Updates for Office Property
The overall picture for the US office property market is still unclear, but what is extraordinarily clear is the flight to quality trend. But don't take it from us, take for example this chart and quote from a recent CBRE Phoenix market report. "We anticipate that while overall vacancy may continue to increase over the next 18 months, Class A deal volume will continue to outperform the market in a meaningful way. Flight to quality in a downturn is not a new trend, but this flight to quality is not coming at a discount as average rents for Class A deals remain flat from 2019. Premier buildings at premier locations thus will achieve record rents and reward speculative development and redevelopment within the Class A market, even while net absorption as a whole may flounder."  While we do not own property in Phoenix, this sentiment has been repeated ad nauseam by brokers in our markets and beyond.  The flight to quality trend is a hugely important one to follow.

Vacancy Rates & Net Absorption
We also want to highlight the difference between gateway market performance and secondary market performance, because we are very well positioned. National statistics are not relevant in that each market is performing very differently. As the chart from JLL below shows, gateway markets are far underperforming secondary markets, and we have seen in our own portfolio leasing activity maintain much more robust activity to date.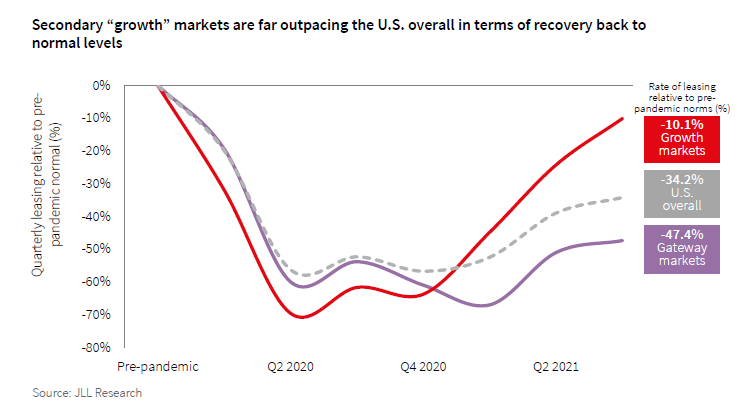 While we do not believe we are near the final new normal equilibrium, we are encouraged by the velocity we see even as workers maintain limited office presence in major MSAs. Furthermore, we see a distinction between the office space use of large technology companies versus midsize and regional professional services firms as the first ones to return to the leasing market.
Surprisingly, we are also seeing much longer lease terms as tenant improvement allowances increase. Not only are active tenants not asking for short term leases, many of them are investing significant money to make their space attractive and desirable and committing to 10 years of term or more. For the first time since the onset of the pandemic, deals >10 years composed more than 40% of leasing in Q3 at 43%. In Q4, this number increased to 44.6%.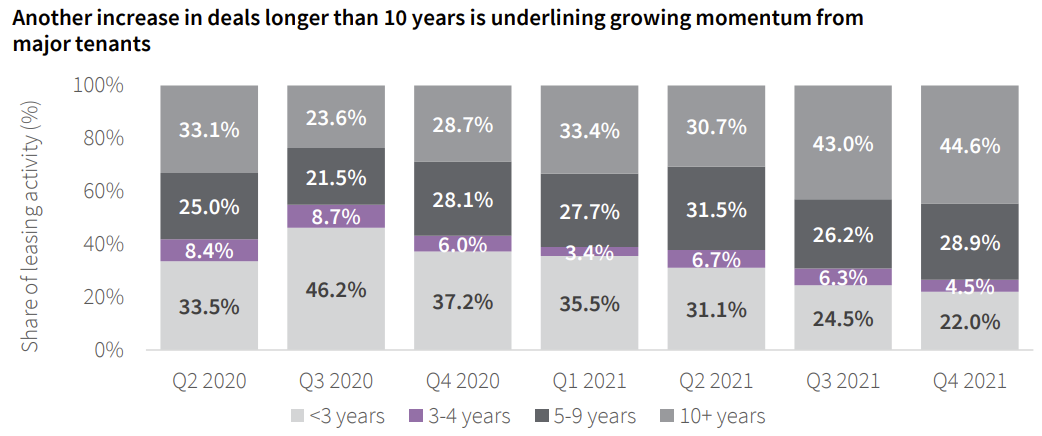 Back to the office: When are workers returning to offices?
As you well know, our thesis simply put is that well-amenitized class A office buildings in suburban urban markets will attract workers back to the office either full time or hybrid, and as a result will continue to perform very well. We think it's only a matter of time before the market realizes this too and places a premium on such assets, but the overall capital flow to the office subsector is being driven by institutional based investors who are focused on more expensive asset classes.
Per an August 2021 survey, 85% of employees prefer working in the office in some capacity, 62% of employees want a hybrid work environment on a permanent basis moving forward, 23% want to return to five days per week, 15% want to be fully remote. (8/26/21 survey of full/part-time workers that returned to office). Furthermore, Cushman and Wakefield reports that 40% of the global workforce is back in the office in some capacity, and skews higher for non-coastal US markets.
According to Morningstar, more than 2 in 3 current remote workers are comfortable returning to the office, but with variability depends on the metro.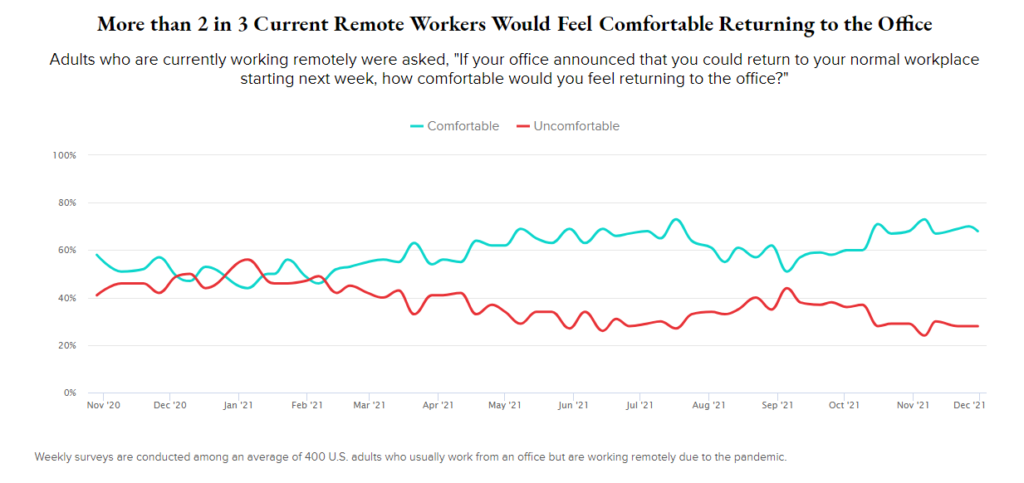 Anecdotally, we know that once a major employer in a certain industry determines a path forward, other participants tend to follow. JP Morgan returned to the office in July on a rotational hybrid basis and other wall street firms have similarly increased schedules. And while the large tech companies have pushed back start dates, we follow a "watch what they do not what they say" attitude, and what they're doing is nothing short of taking large amounts of office space. Google spent $2.1bn to buy its New York City offices, is planning to spend $1bn buying a London office asset, and Facebook recently announced 1 million square feet of new leasing activity throughout the San Francisco Bay Area. Hard to imagine these moves would be made for the space to sit vacant.
Migration patterns
Migration patterns continue to be a tailwind for secondary markets as household formation increases in smaller markets as well as attracts talent from larger, more urban MSAs. Much of this is pull forward demand of millennial demographics, but the millennials will continue to be a tailwind for less dense markets over the next decade.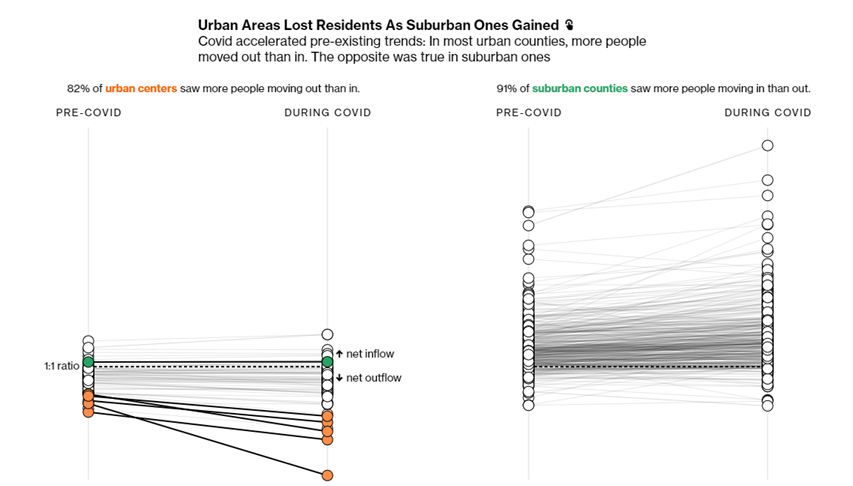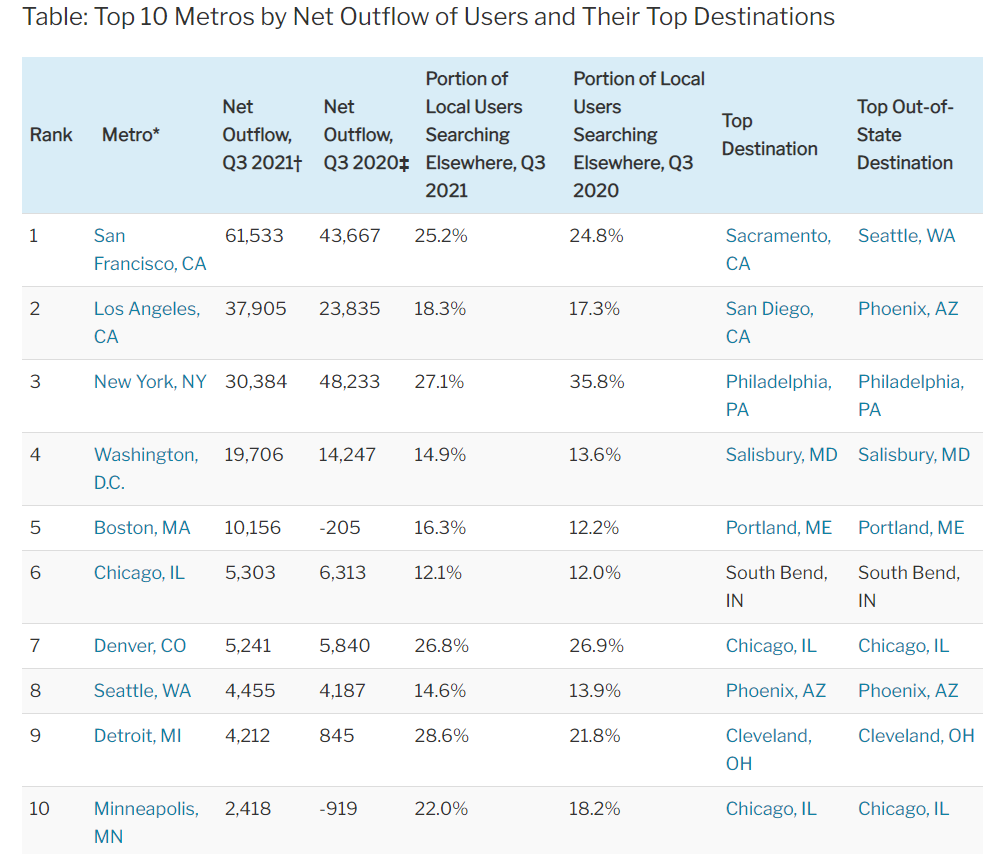 Portfolio Review: 
Streitwise Plaza (St. Louis, MO)
Streitwise Plaza continues to be

nearly full at 98% occupancy

. 

Struck three lease deals, including an extension, an expansion and extension, and a new lease. 

Invested in capital expenses necessary to maintain the property as a top tier asset and have further CapEx budgeted for 2021. 

Aggressively marketing the limited vacancies for lease and continue to have active discussions with new and renewal tenants.

Are actively exploring early extensions opportunities with existing tenants where it may be mutually beneficial. 

The St. Louis office market is on much firmer footing, in particular with respect to sublease availability, than its coastal, tech centric counterparts, and we hope that cushions the landing as we approach 2021-2022.
Allied Solutions Building (Carmel, IN)
It is going to become difficult to provide much in the way of further updates at Allied Solutions as we

hit 100% occupancy

with significant lease term remaining.

Fork + Ale and our other ground floor retail tenants continue to perform well, evidencing the attractiveness of the mixed-use walkable nature of the project.



In-Place Leases
With respect to our portfolio's lease expiration schedule, we are in a good position where we have strong, anchor cash flows out to 2030 and will provide ongoing revenue as we reinvest capital in near term rollover at Streitwise Plaza.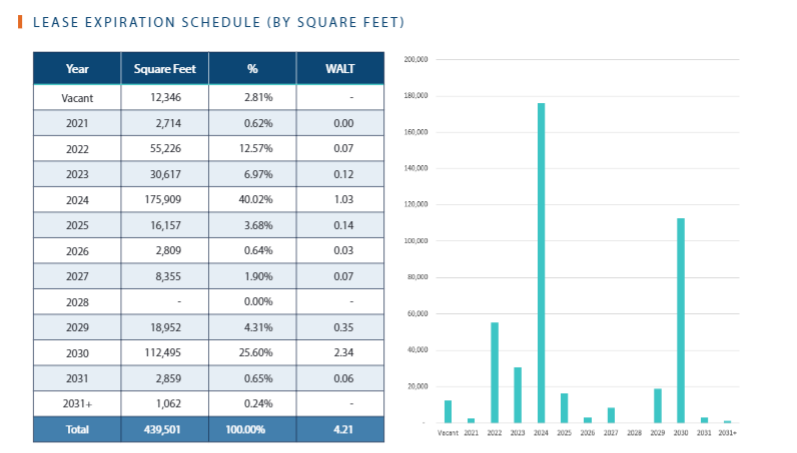 Dividend and NAV Change History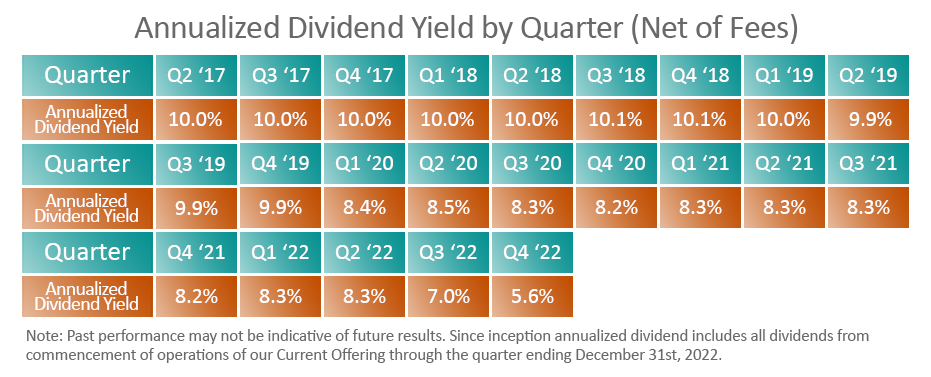 We were able to maintain our dividend target of 8-9% set in 2020, and we maintain the same target for 2022.

What to look for in 2022: 
Keep hitting investment targets
We will seek to invest in real properties and other real estate-related assets that we believe can produce a ~10% return through a combination of cash flow and appreciation, although we cannot guarantee that we will reach this target. Dividend target for 2022 will be 8-9%.
Continue to Strengthen portfolio
Leasing updates for large tenants with near-term expirations.

Further enhance the balance sheet through loan principal amortization.

Invest in CapEx to position for future revenue generation.
Investor Interface Improvements
We continue to make improvements to the Streitwise app and investor center processes for investors. Click here to download the official Streitwise app to track your portfolio.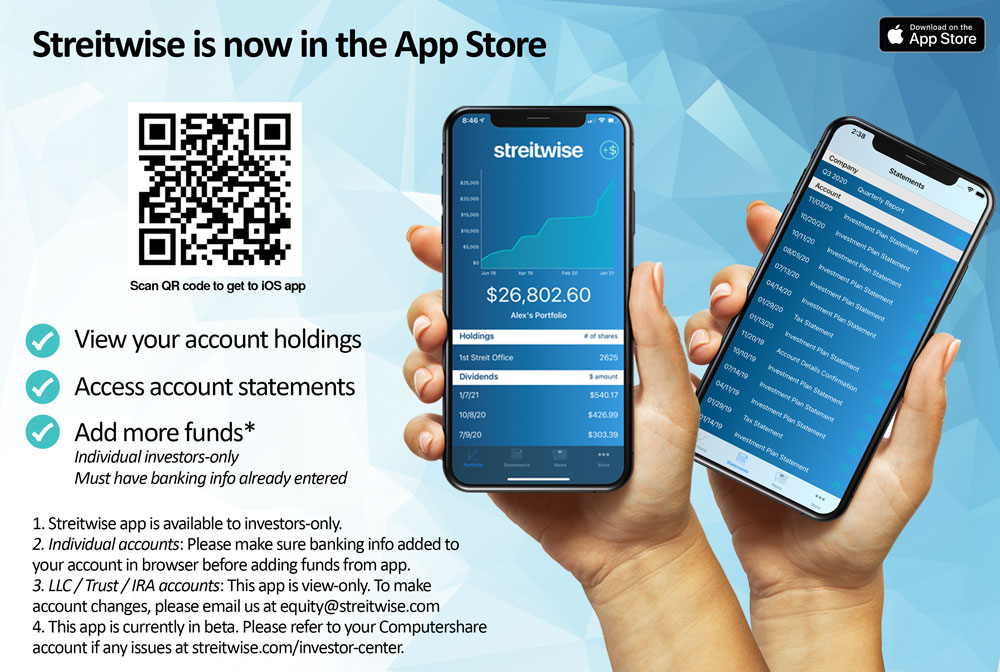 Additional Acquisitions to Portfolio
We enter 2022 from a position of strength and still believe, as we did when we launched Streitwise, that suburban-urban office properties will outperform, that top tier office properties will retain value and leasing momentum during downturns and emerge first during recoveries, and that revenue from strong tenants is more important now than ever. We continue to seek out opportunities with these three fundamental pillars.
To a Successful 2022
We aim to further grow Streitwise's brand to be the destination real estate investment service for both high-net worth and investors with starter portfolios. We believe there is incredible value for all investors to be able to access a diversified portfolio of suburban-urban office product as the workforce adjusts back to the office in 2022. Here's to a strong year and for all investors to hit their financial goals.
To view the Annual Shareholder's Meeting, click here.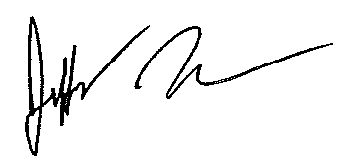 Jeffrey Karsh
Chief Investment Officer, Streitwise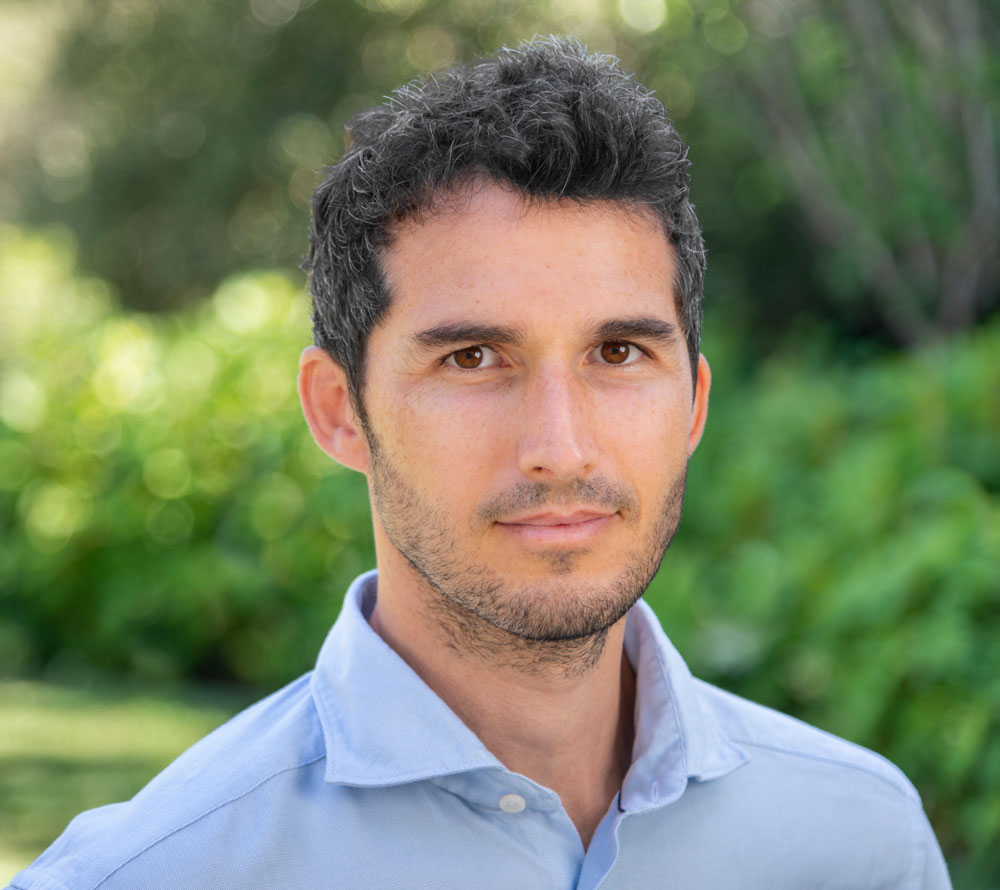 Mr. Karsh is a Partner and Co-Founder of Streitwise. His primary responsibilities include sourcing and executing new investments, managing corporate operations, and overseeing investor relations and reporting.
Prior to forming Streitwise, Mr. Karsh was an Acquisitions Analyst for Canyon Capital Realty Advisors and the Canyon-Johnson Urban Funds, where he was responsible for underwriting, structuring and executing value-add and opportunistic transactions. He holds a Bachelor of Arts degree in Political Science from the University of Pennsylvania. Mr. Karsh is a member of ULI and is also a Real Estate & Construction member of the Jewish Federation of Greater Los Angeles.