Streitwise investors now have the ability to invest in high-quality real estate using their Bitcoin (BTC) and Ethereum (ETH) with a digital wallet. With this additional payment option, Streitwise becomes one of a growing number of companies to accept cryptocurrency as a funding option. Although it is now possible to invest using cryptocurrency, investors still have the traditional investment options available such as ACH (bank account), check and wire payments.
This service is now available using Streitwise's escrow agent, Primetrust, which facilitates the cryptocurrency payment. Once your registration is complete on the Start Investing page, you will be directed to a wallet address to send your funds to. For questions on enrollment, please contact us.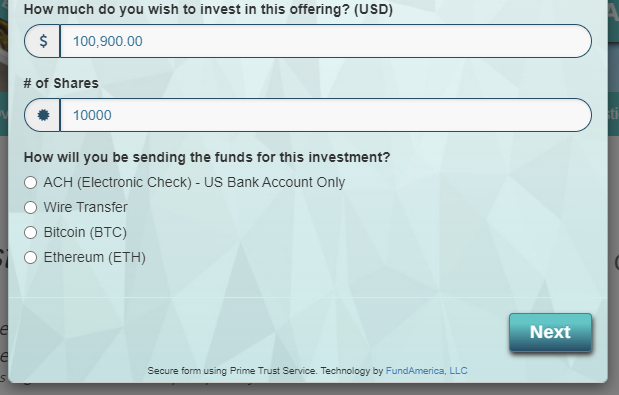 Acceptance of your Transaction and Conversion of Digital Asset to USD: Generally, once per business day, we will effect a conversion of Digital Assets to USD using the facilities of Digital Asset exchanges with whom we do business. We will calculate your Final Transaction Amount based on the exchange rate we receive less Prime Trusts' Digital Asset Handling Fee. Digital Assets received during non-business hours or after 4pm New York City time (EST or EDT) on a business day will be converted the following business day. The USD proceeds from this conversion will be used to calculate an Exchange Rate, inclusive of any exchange fees and transfer fees, that we will apply to your Digital Asset transaction to calculate your individual Gross Conversion Proceeds. Prime Trust makes absolutely no representation and provides no warranties that the conversion price will be the best available at the time of conversion.
Prime Trust's Digital Asset Handling Fee will be subtracted from your Gross Conversion Proceeds
to yield your Final Transaction Amount.
Important: Because the Digital Asset to USD exchange rate may vary significantly from time to time, and even moment to moment, the exact amount of your Final Transaction Amount and any resulting securities purchased in this transaction will be reported to you only after we have converted to USD and your transaction has been accepted by all parties.
Transaction Costs: Prime Trust makes no claim or guarantee that investing in the offering using Digital Assets is economically efficient relative to other payment methods or conversion options available elsewhere. You may pay lower all-in fees by converting Digital Assets to USD away from Prime Trust and this transaction process, and then using the proceeds of that conversion to make a USD transaction in the offering.
Eliot Bencuya is the co-founder and CEO of Streitwise. Eliot has extensive experience identifying, underwriting, and executing value-add real estate investments.
Prior to forming Streitwise, he was a Vice President of Acquisitions for Canyon Capital Realty Advisors and the Canyon-Johnson Urban Funds, where he was responsible for originating, underwriting, structuring and executing transactions in the Pacific Northwest, Northern California and Midwest regions. Mr. Bencuya also held positions at Sovereign Investment Company (a subsidiary of the Marcus and Millichap Company) and the investment banking division of Merrill Lynch & Co. He holds a Bachelor of Arts degree in Economics and International Studies from Yale University, and a Masters of Business Administration degree from the Haas School of Business at the University of California, Berkeley. Mr. Bencuya is a member of ULI.